Need Some Travel Inspiration?
Every corner on Instagram, there's travel videos and photos covering the feeds of fond travellers, who all wish they were the ones jetting off to a new country. We have to admit, we do get extreme FOMO, but there's nothing better than diving deep into the pages and pages of pictures, inspiring the inner explorer to come alight and start planning the next trip away. While scrolling through the hundreds of traveller Instagram accounts, we discovered some accounts that we just had to share with you. If you need some travel inspiration for your 30 days of travel after camp, check out our top 11 best travel Instagram accounts you should follow.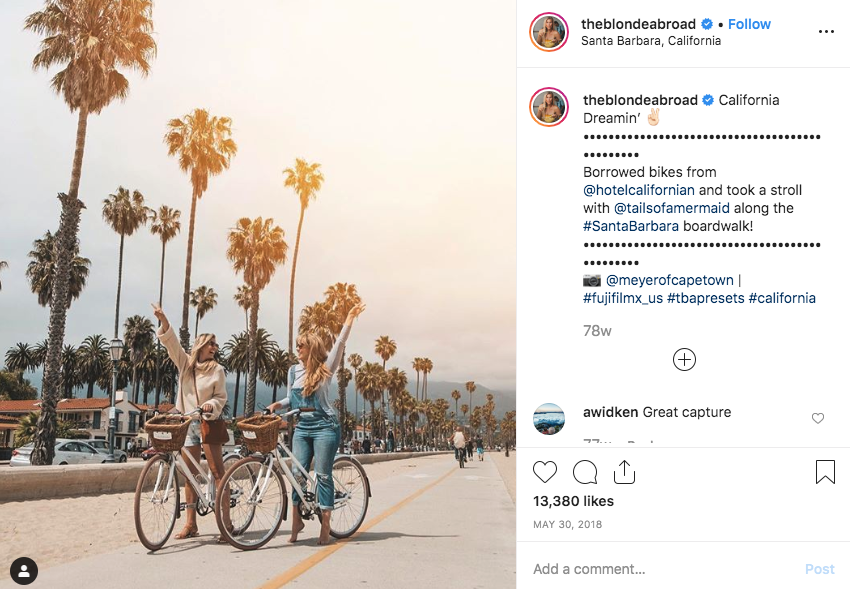 Kiki aka @Theblondeabroad is inspirational for female solo travellers all around the world. She has been to over 70 countries and is still making it her mission to see and explore more of the world we live in. Her feed is inspirational and makes us proud to be strong women! Make sure to check out her blog website which is jam-packed full of tips and tricks on solo travel and travel guides.
Tanya's feed is just wow. The bright colours and unique images capture the beauty in the world. From the US, Marrakesh, Europe and Thailand, Tanya has had her fair share of trips. If you want your Instagram to look like as good as all of these travel bloggers, check out Tanya's photographs to get inspired.
Murad's feed is a work of art. Pictures are vibrant, powerful and nothing like we have seen ever before. To confirm how amazing his work is, he has been awarded the title 'Influencer of the year' and became one of the Top 3 Travel Influencers by Forbes. Pretty impressive, right? From exploring NYC to a helicopter ride over the Hollywood sign, Murad has taken some amazing photos from his time in the states.
Louis has 1.2 million followers on Instagram and is known for his crazy adventures. (Louis and his team brought a little propeller plane to travel around the world!) He travelled across parts of the states and Mexico in a school bus, documenting his journey. If you want some ideas on where to go on your 30 days of travel, check out his Instagram feed and youtube videos.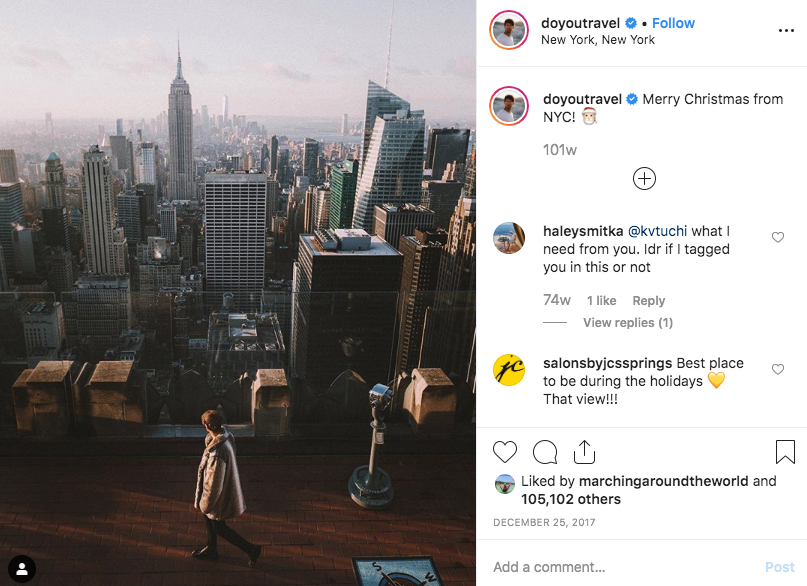 Jack Morris and his girlfriend have been jumping from destination to destination. They capture each country beautifully to keep their followers up to date on their adventures. If you need some help editing your photos, both Jack and his girlfriend give tutorials on how they get their photos looking amazing.
Lauren aka Girlgoneabroad quit her 9-5 job and jetted off to get her travel fix. She has taught in Thailand, hopped over to Europe and travelled ever since. Her photos from the US are a little different from the typical National Park picture or Hollywood sign shot. Her unique photographs capture a different side to America that you might not have seen previously.
Luca and Ale are travel couple goals! Every time one of their photographs pop up onto our feed, we can't help but wish we were anywhere but in the UK. The couple has explored California and New York in their trips to the states. Make sure to check out their NYC highlights. It has great ideas of where to go when you go to New York this summer!
If you want to travel to Disneyland when in the US, check out Alexandra's Instagram feed. She spent a couple of days travel exploring Disneyland, New York and the National Parks in the US. Her feed is truly magical and if you're a true Disney fan, this is one of the best travel Instagram accounts for you.
This is definitely one of the best travel Instagram accounts to follow. If you love nature and tropical vibes, you have to check out @Backpackersglobe. Their Instagram is filled with breathtaking images of the landscapes and wildlife around the US, Canada and Indonesia. One of our favourite pictures from their trip to Hawaii!
We can't lie. After seeing Laura's Instagram, We all are currently wishing we were road tripping down route 66. From LA to New Orleans, Laura and Nicolas have mastered travelling in the US and have some great destinations for you to put on your list.
If you love scrolling through hundreds of pictures of landscapes and scenery, follow @Tiffpenguin! Her feed captures the magnificent panorama around the globe. She is also based in Los Angeles!
So, there you have it. That's out top 11 travel Instagram accounts to inspire and motivate you to go explore and push yourself further. If you like what you saw and can't wait to get out to the states, start your application to head out to Summer Camp here!